Making a Facebook page is SUPER SIMPLE!
You can add as much or as little information as you want, here's the 4 step process that Facebook outlines as the answer to the question "How do I create a page?"
Pages are for businesses, brands, organizations and public figures to share their stories and connect with people. Like profiles, Pages can be customized with stories, events and more. People who like or follow a Page can get updates in News Feed.
To create a Page:
Go to facebook.com/pages/create.
Click to choose a Page type.
Fill out the required information.
Click Get Started and follow the on-screen instructions.
Note: Anyone can create a Page, but only official representatives can create a Page for an organization, business, brand or public figure.
For those that want a more detailed walk through, please keep reading:
How to Create a Facebook Business Page
A Facebook business page is a free public profile you can create for your local business, brand, or product. Similar to your personal Facebook account, you can use the Page to promote your business or products by posting status updates, links, event announcements, comments, or photos and videos.
On your Facebook page, click the drop down arrow at the top right. Next, click Create a Page. Select the type of page that fits your small business — either Local Business/Place or Brand/Product. Fill out all empty fields like contact information, address, category, and business name. Finally, click Get Started.
If you're not artistically-minded, you can hire a graphic designer to help you create a professional Facebook business page. Fiverr is filled with talented designer who can design your Facebook page starting at just $5. Click here to find Facebook page designers on Fiverr.
Now, let's look at how to create a Facebook business page in detail.
Creating a Facebook Business Page
Creating your business page on Facebook is free and easy to do. Here are the 6 steps to creating a business Facebook page:
Step 1 — Create a Page on Facebook
Login to your personal Facebook account. You will be able to create a new Facebook business page directly from your profile. To create your page, start by clicking the drop down arrow at the top right hand corner of your Facebook page. From the drop down, click "Create Page."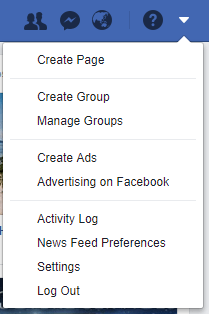 Choose "Create Page" from the drop down arrow located at the upper right corner of your Facebook page.
You will next be taken to a different window where you can choose a category that best fits your business. You can choose from the following categories:
Local Business or Place
Company, Organization, or Institution
Brand or Product
Artist, Band, or Public Figure
Entertainment
Cause or Community
If you are a local business with a physical location, you will want to choose "Local Business or Place."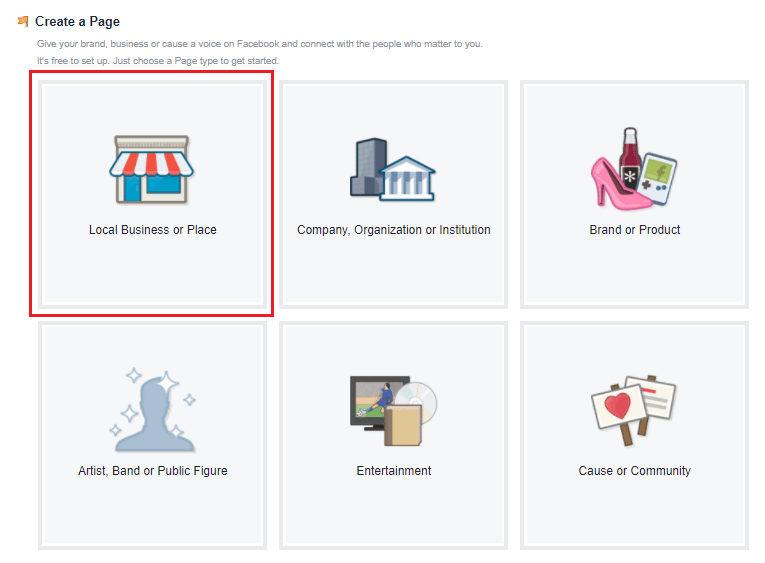 Create a page for a local business.
Step 2 — Enter Your Business Information
To complete setup of your page, you will need to provide basic information about your business, including:
Name: Your business name
Page Category: You will be able to choose from a number of categories, so choose one that best represents your business
Address: On three separate text boxes, provide the street address, city/state, and zip code of your physical location. Be as accurate as possible as this will help customers find your business much easier.
Phone Number: Include your phone number so people can call your store directly from your Facebook page.
Facebook now requires local business or place to provide all the information above before allowing you to create a page. You won't be able to move on to the next step without the information above, so have it handy when creating your Facebook business page.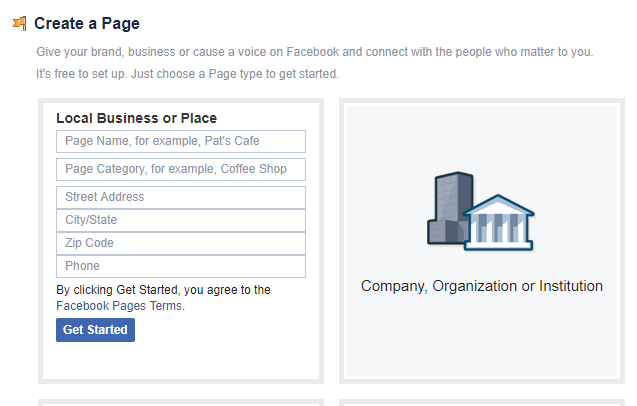 Basic business information required to set up your Facebook business page.
Step 3 — Upload your Profile Picture & Cover Photo
Choose a profile picture that will draw people to your page. One idea is to use a picture of your product, whether that be a delicious looking menu item (restaurant), a gorgeous hair shot (beauty salon) or a nice looking smile (dentist). You can also use your logo or other images customers associate with your business such your street sign or storefront.
Similarly, you want your cover photo to be visually appealing and representative of your business. Your cover photo should be 828 pixels by 315 pixels. If you are having trouble finding a cover image, you can create one for free using Canva.
The 3 things to keep in mind when choosing your Facebook pictures are:
Choose a visually appealing picture
Make sure it is representative of you business
Make sure it's a high resolution shot at least 170 x 170 px for profile photos and 828 x 315 px for cover photos.
You can choose photos you already have from your website or hire professional photographers. You can find professional photographers for as little as $5 on websites like Fiverr.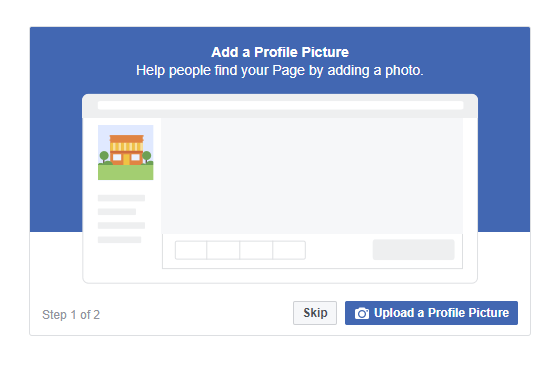 Use a high resolution profile picture when creating your Business Facebook page.
Once you upload your profile and cover photos, the initial setup is done, and you will be taken to your new Facebook business page. We recommend following the steps below to fully complete the setup of your new Facebook page.
Step 4 — Invite Friends to Like Your Page
On the first screen after uploading your cover photo, you will receive a prompt to invite your friends. Invite as many of your friends as you can to increase your page following.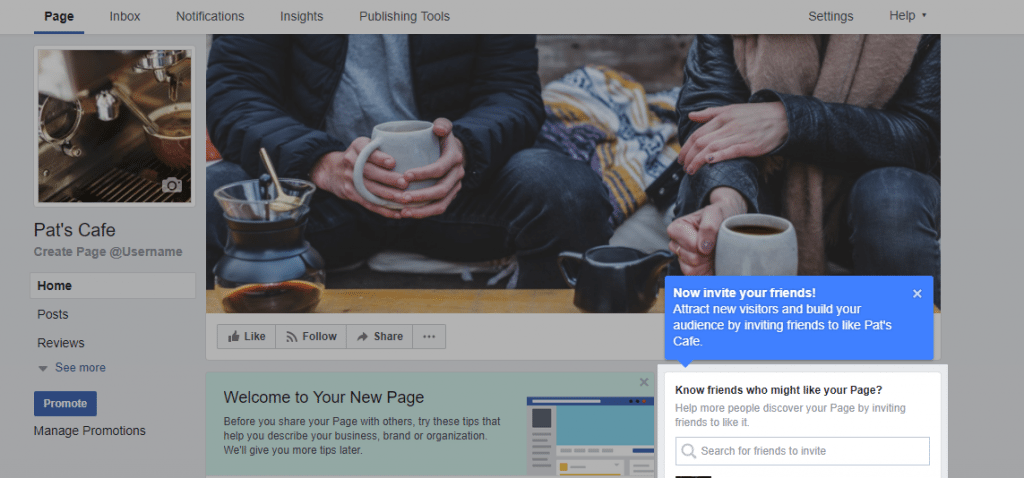 Get the first few followers on your Facebook business page by inviting friends from your personal account.
Step 5 — Add Additional Business Details
On the middle part of your new Facebook page, you will receive a welcome banner with tips on improving your page. Click the "See All Page Tips," and take the time to provide as much information as you can. We recommend adding the following details to your new Facebook business page:
Short Description – Provide a brief description of your business (e.g. NYC beauty salon specializing in haircuts, styles, and updos)
Business Hours – Include your store hours so people know when you're open
Username – This will appear at the end of Facebook's URL (facebook.com/mynewbusiness). Pick an easy username to help people find your page
Your Website Link – Add your website URL so people can visit your site directly from Facebook
Create a Group – Create a space where your customers can connect with each other and discuss your products or services.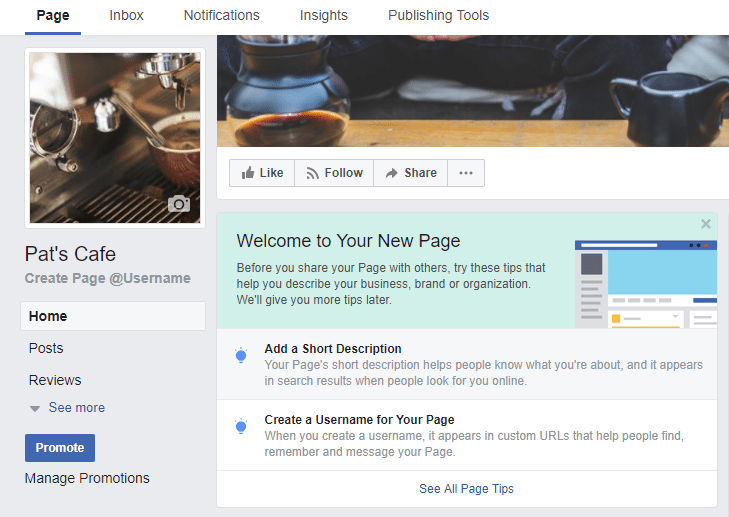 Complete your Facebook Business page profile.
Step 6 — Add a Button to Your Page
Once you add all the important details to your Facebook page, click the blue "+Add a Button" option on the upper right hand corner of your page. This feature will let your customers perform a specific action quickly and directly from your page, including:
Book Services: Let customers avail a service or start an order
Get in Touch: Let customers contact you on the page via phone, a custom form, direct message, etc.
Learn More: Provide customers with more information about your business through a short video or link to your company's about page
Make a Purchase or Donation: This can be used to link directly to a product page on your website where customers can purchase products.
Download App or Game: Let customers download your app or play games
Add a button that will make a direct impact on your sales or business. For example, if you own a restaurant, you can use the "Book Services" button to allow customers to make a reservation. You can also link this button to a specific page on your website to drive traffic to your site.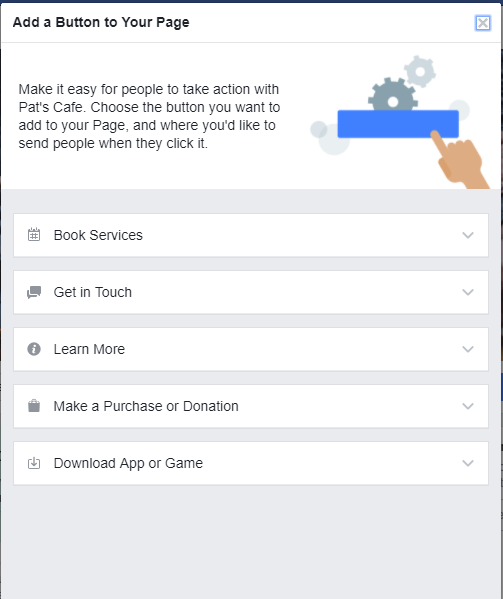 Different types of buttons to use on your business Facebook page.
If you follow the steps above, your business page on Facebook should now be ready! Note that you can easily customize your page should the need arises. For example, you can easily change the page button from making a reservation on your website to learning about a new product through a video. No matter your marketing goals, you will always have full control of the content in your business Facebook page.